Cameo Comic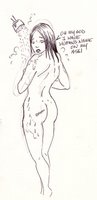 So this month, I've also done a bunch of nekkid fan art. Those of you who follow AGD know that I have no problems with nudity.
Witches go "Skyclad" all the time, after all...
The one on the left is "Scale" from
Cameo Comic
where I am guest artist for a time. Scale is the creation of a team of writers and artists, one of which is Hogan from
"The Webcomic Crossover and Cameo Archives"
There has been a running joke going on about how Scale has Hogan's name tattooed on her ass, and since I'm the one drawing her right now... I should erase it. Sorry Scale... ain't gonna happen.
The one on the far right is of Abúi, a character from the long running comic
Rogues of Clwyd-Rhan
by Reinder. He was a total sweetheart and
posted my fan art on his website.
Reinder is one of my webcomic idols. I WUVES YOU REINDER!!! <3 <3 <3 It has been so cool to work with him on the Crossover Wars! (sorry... I had my fangirl moment... I'll get better in a few moments)
kiss kiss,
Gothia (also known recently as "Aggie" in Cameo Comic)