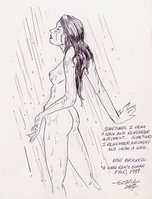 I looked up Edie Brickell and the New Bohemians on YouTube.... then stumbled upon
"A Hard Rain's Gonna Fall"
, which I hadn't heard in so long. It was one of my favorite songs from 1989. A song from the soundtrack of
"Born on the Fourth of July"
with Tom Cruise.
I won't go into why I thought of this song now, but needless to say, sometimes rain must fall. Sometimes it is cleansing, embracing and uplifting. Sometimes it is sorrowful and depressing. Often, it is all of those things.
-Gothia